Mini Classes
Mini classes are a perfect opportunity to keep studying French without a long commitment. Each class targets a specific area or theme. Mini classes are offered in a series of 4 weeks, 1h30 hours per session, starting the week of February 20.

Below you'll find the details about each series. Scroll all the way down for registration. REGISTRATION CLOSES 24H BEFORE CLASS BEGINS. Contact the office for last minute registration info@afportland.org.

Scroll down to register.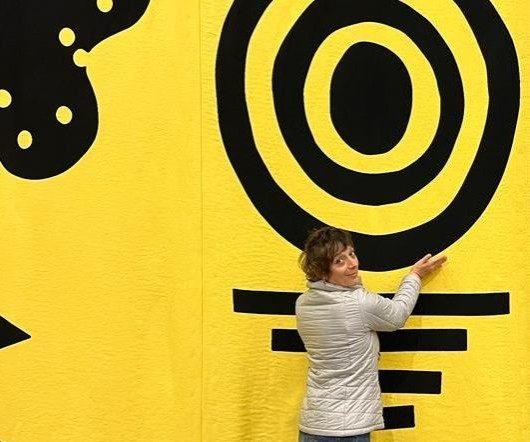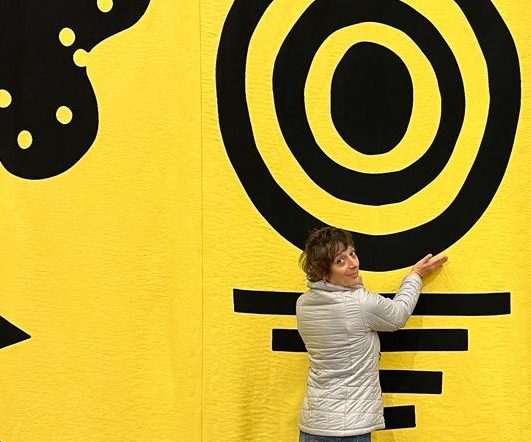 Paris Off the Beaten Path
In French, Or In English!
For levels A0-A1, or Level A2
Go past the "Emily in Paris" super-stereotype and let Paris native Elisabeth (who actually lives in the city ! Pictured above.) take you, virtually, in neighborhoods, museums, sites where the "real" Parisians live, play or work. In each class, you discover a specific Parisian spot (short history, main characteristics, etc.) where few (if any) tourists go with comments, photos and videos. Elisabeth also guides the discussion so that you share how the neighborhood you explore resonates with you, what it tells you about the French culture as well as about your own. Come and dive in the "real" Paris and practice your French!
A2: Thursday class is open to A2 level French students with the prerequisites CECR A1.
A0-A1: Tuesday class - discussion is led in English with some French expressions taught each week.
IN ENGLISH - Levels A0-A1
Tuesday 9-10:30a
February 21 - March 14

Prerequisites: none
IN FRENCH - Level A2
Thursday 10:30-12p
February 23 - March 16
Prerequisites: 106
French Ripped From The Headlines
For levels B1 through C1
Want to speak with a rich vocabulary and use idioms and common expressions spontaneously? Stop just encountering new vocabulary and start retaining and using it in this class based on RFI's "Le journal en Français Facile"! RFI-FF is a publicly supported nonprofit organisation that's existed for 23 years and offers a wide range of subjects in its news broadcasts. Visit their website to see the examples of the themes to be covered in class. No flashcards required!

Mondays 6-7:30p
February 20 - March 13
Fridays 11:10-12:40p
February 24 - March 17

Prerequisites: CECR B1
A Journey in French Contemporary Cinema
For levels B1 through C1
Discover and discuss 21st century French movies during this four weeks interactive class. Watch suggested movies before class then discuss it during the Zoom class time. Four themes will be proposed:
1. French humor with The Intouchables
2. Recent historic drama with Portrait of a Lady On Fire, A Very Long Engagement
3. The new love scene with France, Two of us : Deux
4. A changing society with Fatima, Tazzeka
This class is for those who love the movies, want to discover what makes French people tick, and how French society is changing. It is recommended for students with level B1 through C1.
Tuesdays 6-7:30p
February 21 - March 14
Prerequisites: CECR B1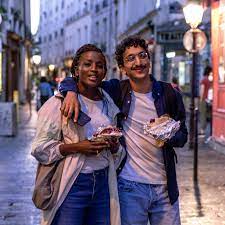 Cinéclub: Drôle
For levels A2 through C1
Join us to explore the acclaimed Netflix comedy series Drôle (Standing Up). From the creator of Call My Agent!, Drôle follows the paths of four young comics striving to make it in the world of stand-up in Paris. In each class, we will review the plot, discuss the sociocultural themes at play, and learn colloquial expressions. We will also discover the particularities of French humor and compare it to what we consider funny in the United States. Come for laughter as well as deep intellectual conversations!
Tuesdays 9-10:30a
February 21 - March 14
Prerequisites: 204
Paris par arrondissements
For levels A2 through C1
Back by popular demand! Travel to the famed City of Lights from the comfort of your own home! Discover the charming neighborhoods of this beautiful city. In each session, we will explore an arrondissement or two and learn about its main attractions, including museums, monuments, parks, recommended restaurants, and more. Your teacher Melody, who lives in Paris, will serve as your enthusiastic tour guide and suggest walking routes. Open to all students A2 and up, regardless of whether you've taken previous "Paris par arrondissements" classes.
Mondays 9-10:30am
February 20 - March 13
Prerequisites: 205
---
PARKING
Street parking on SW 20th St. facing the Kamm House is limited. Free parking is available in Lot A at SW 18th and SW Columbia. Please obtain a parking pass from the office. After 6 pm weekdays, students may park in the Willamette Dental lot at SW 20th and SW Jefferson as available.
OFFICE HOURS
The Alliance office is open 10am-3pm Monday through Friday.
Call us at 503.223.8388 during business hours or leave a message.
Email us at
info@afportland.org
.
FOLLOW US
Design by Monsieur Graphic. Powered by Oncord.