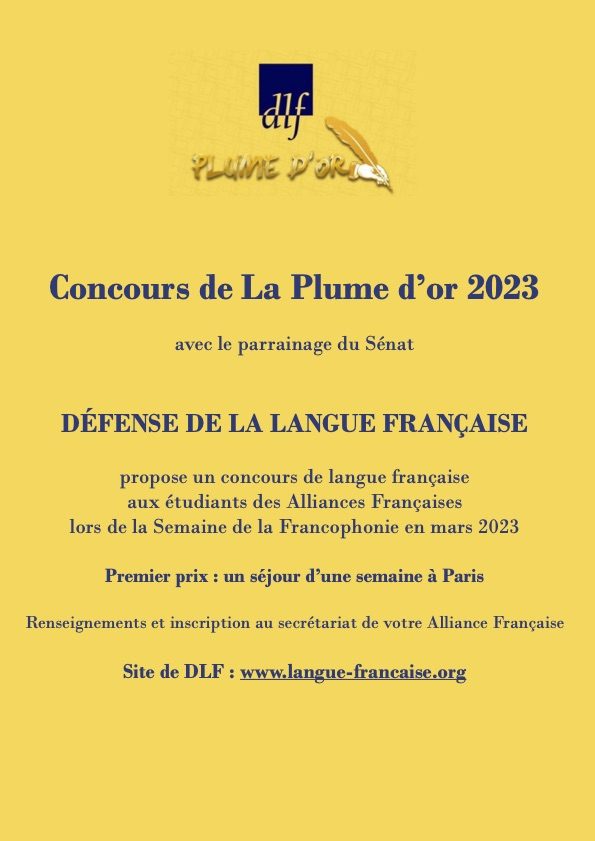 Concours de La Plume d'or
22 mars 2023
Avec le parrainage du Sénat

DÉFENSE DE LA LANGUE FRANÇAISE propose un concours de langue française aux étudiants des Alliances Françaises lors de la Semaine de la Francophonie en mars 2023
Premier prix : un séjour d'une semaine à Paris
Le premier prix est un séjour à Paris (lors de la Semaine de la Francophonie en mars 2024) ; les 99 lauréats suivants recevront un diplôme ; des certificats d'encouragement seront décernés aux autres participants.
Ce concours de langue française est destiné aux étudiants des Alliances
Françaises, de nationalité étrangère (au minimum niveau A2).
L'épreuve (durée : 2 heures) aura lieu le mercredi 22 mars 2023 à 10h30 en personne à Kamm House.

Résultats le 15 juin 2023 sur le site de DLF : www.langue-francaise.org

Inscriptions par email auprès de la Directrice d'éducation et de culture: elenez@afportland.org
---
PARKING
Street parking on SW 20th St. facing the Kamm House is limited. Free parking is available in Lot B at SW 18th and SW Columbia. Please obtain a parking pass from the office. After 6 pm weekdays, students may park in the Willamette Dental lot at SW 20th and SW Jefferson as available.
OFFICE HOURS
The Alliance office is virtual
during the COVID pandemic.
Quickest contact is
info@afportland.org
.
Leave a voicemail at 503.223.8388.
FOLLOW US
Design by Monsieur Graphic. Powered by Oncord.