french FOR CHILDREN AND YOUTH
Children and Youth program is open for registration. Private and semi-private classes are available on demand. Below, you'll find classes offered in fall.
The Alliance Française offers a variety of classes for children ages 3-10 and youth ages 11-18. You will find classes with or without textbooks, play or conversation oriented approach. Take a closer look at our offerings below.
Classes for Children

Play and Learn French
Ages 3-5: no prerequisites, Saturdays, in person
Ages 6-9: no prerequisites, Saturdays, in person
This is an in-person class! This class will let children discover French language through games, movement, songs, engaging all of the senses: sight, taste, smell, touch, hearing. This multi-sensory class uses total immersion method to build the language skills through fun activities. We use the method with original songs integrated to the curriculum. Each class exposes children to familiar situations, so they are able to easily reuse their newly acquired skills at home. There is no required textbook for this class.
Class structure: The class evolves around two main elements: the ritual-based repetition and predictability (songs, mascots) and the surprise that comes with new elements in each class (new phrase structures, vocabulary, games).
Class objectives: Understand the meaning of activities without needing English explanations. - Build vocabulary for everyday situations. - Learn and use useful expressions and phrase structures in context. - Participate in activities in French, use acquired skills in everyday situations.

General French, Ages 7-10
Beginner 1: no prerequisites
Beginner 2: completion of at least one season of Beginner 1 required
Advanced Beginner 1: prerequisite: completion of Beginner 1 and 2 or prior French experience, such as study in immersion school.
Learn French with the Cousteau family as they travel throughout France and the francophone world! Using the Cap Sur method (textbook) which follows the adventures of the Cousteau family and their pigeon, Gaston, your young French-learner will discover the language through a variety of interactive games and hands-on projects. This dynamic method emphasizes the fun in language learning. Throughout the term, students will have opportunities to work on an art-based travel journal to document their adventures in French!
This class is offered via Zoom and in-person.
Sign up by first selecting 'Children' on the course selector at the bottom of the page, then click on the course box. Alternately, contact the office at info@afportland.org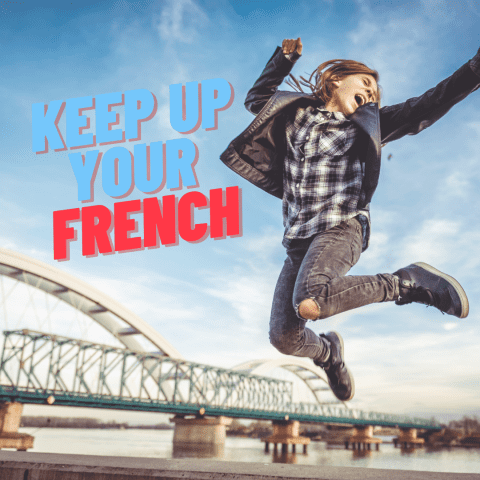 Keep Up Your French
Advanced, Ages 9-12 and 13+

Designed for students who have a French immersion background and want to keep up their French skills, this class will give adolescents a weekly opportunity to express themselves in French and soak up the language through music, literature, and cultural topics.
Students will have the chance to work on their reading, writing, speaking, and listening skills in a comfortable group setting and shape conversations based on their lives and interests.
This class is offered via Zoom.
General French
Beginner 1, Ages 11-14
Embark on a trip through francophone countries, guided by teenagers! Learn French with engaging content and project-based modules. Based on authentic situations and teens interests, the "A la Une" textbook offers a dynamic approach to learning French. Available as a print bundle of student's book and a workbook or a premium bundle with printed student's book and access to digital workbook for 12 months.
This class is offered in-person.


Classes for Students Attending Immersion Schools

"After School Boost" is an engaging and dynamic French class designed specifically for children attending language immersion schools. Through a combination of interactive activities, creative exercises, and group discussions, students will reinforce their vocabulary, grammar, and comprehension skills, while focusing on the ability of applying in writing and in speaking concepts learned at school between ages 11-13 and 14-16.
These classes are offered via Zoom.
Sign up by first selecting 'Youth' on the course selector at the bottom of the page, then click on the course box. Alternately, contact the office at info@afportland.org
This website was published January 17, 2022. All students will need to login with a new password before registering.

Use the code SIBLING2 at checkout for a 5% discount when enrolling a second child and SIBLING3 for 10% off for a third child.
To see the teacher for a class, hold your cursor over the circled exclamation point in the class date/time box of the course selector.